We are located in Alcamo (province of Trapani, Italy)
Address: via F.lli Sant'Anna, 58 - 91011 Alcamo (TP)
Directions for arriving in Alcamo
By Train

From Palermo or Trapani
(get off at Castellammare del Golfo station)

By Car

Highway A29: get off at Alcamo exit or Alcamo Ovest exit.
Then State Road SS113 or SS187, get off at Alcamo exit

By Ferry

Sea connections from Cagliari, Genoa, Livorno, Naples, Salerno and Valencia to Palermo. From Cagliari and Tunis to Trapani

By Bus

From Palermo and Trapani
(To Bus stop Piazza della Repubblica in Alcamo)

By Airplain

Falcone e Borsellino airport (PALERMO)
Vincenzo Florio airport (TRAPANI)
Historical information on Alcamo
Alcamo's origins are very ancient, since a community of people coming from Asia Minor, called Elimi, had already settled on the summit of Mount Bonifato in the 7th century B.C.
A few centuries later, Romans settled there for its cool climate, beautiful landscape, and the convenient position of its valleys.
After the fall of the Roman Empire, Barbarians invaded the area, which was later dominated by the Byzantines. In the 10th century Sicily was invaded the Arabs, who inhabited the foothill of the mountain, calling it "Alqamah". In the 12th century, Idrisi (1154) and Gubayr (1184), two important Arab geographers, respectively described Alcamo as "a wide hamlet with a remarkable market and crafts", and "a large and rich village with mosques and a market." At that time, there were several hamlets inhabited by Muslims, which later became feudal quarters (S. Vito, S. Leonardo, S. Ippolito, S. Nicolo del Vauso).
Under the Normans, the village returned to Christianity. During the rule of Fredrik II of Swabia (1230-1250), a poet called Giullo (or Cielo, according to others), who became famous with the name of Cielo D'Alcamo, wrote a 32-stanza poem titled "Rosa fresca aulentissima", which is considered one of the most important documents of Italian literature, being one of the first tokens of the Italian language.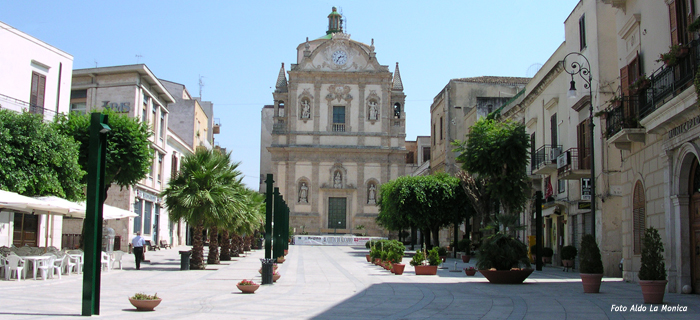 The transformation from being "a wide hamlet with a market" to a city started in the 15th century, when there were "six hundred fires", corresponding to around 3,000 inhabitants; many among Alcamo's settlers came from various areas of Sicily, but also from northern cities such as Pisa, Amalfi, Bologna, from the regions of Calabria and Liguria, and from Spain. According to some ancient documents, renowned painter Antonello Da Messina accepted a contract, when he was 15 years old, as a helper to leather tanner Guglielmo Adragna d'Alcamo.
In 1535, emperor Chares V visited Alcamo on his way back from Tunisia, and described it as "a wealthy and cheerful place", after being received with joyful and rich manners. In 1631, viceroy Francesco De La Cueva promoted Alcamo from the rank of "land" to that of a "city", in consideration of the fact that it had become an important business centre with particular regard to the distribution of the wheat produced in the hinterland.
In 1802 Alcamo became a Crown Property. The new constitution provided for a bicameral system, and the Sicilian parliament had some representatives of Alcamo: archpriests Stefano Triolo Galifi and Giuseppe Virgilio, and baron Felice Pastore.
In 1848 and 1860 Alcamo participated in Sicily's patriotic revolts under the leadership of aristocratic families Colonna Romano, Fazio, and Triolo di Sant'Anna in support of Giuseppe Garibaldi.
The 20th century began with political and economic problems still linked to the unification of Italy. Alcamo recovered from the post-war socioeconomic crisis, to become the busy and laborious city that is still today. Due to the fertility of its land, agriculture has always played an important role. Even today, local economy is mainly based on agriculture and commerce, the former being a thriving sector particularly for the importance of viticulture, which absorbs most of the cultivated land, and the latter being based on the construction sector, on the production of marble (with particular regard to travertine), and on handicraft activities (mainly concerning wood, iron, and embroidery).
Another significant sector is tourism, which represent a remarkable source of income and offers job opportunities to young people, thanks to the beach resorts in Alcamo Marina, the woods of Mount Bonifato, and the abundance of monuments.