Joan Sutherland
Joan Sutherland was born in Sydney. Her mother was a mezzo soprano who had given up her career. She learned a lot from her mother, with whom she used to sing and listen to many recordings. She attended St Catherine's School, Waverley, the oldest Anglican girls' school in Sydney. When Sutherland was 18, she started to study singing seriously. She made her debut in Australia as Dido in Purcell's Dido and Aeneas, in 1952. Previously, in 1949, she had won Australia's most important competition, The Sun Aria and went to London to study at the Opera School of the Royal College of Music. In 1951, she sang in the world premiere of Eugène Goossens's Judith. She made her European debut as the First Lady in Die Zauberflöte at the Royal Opera House, Covent Garden, on October 28, 1952. In November of the same year she gave four more performances at Covent Garden in Bellini's Norma in the role of Clotilde, with Maria Callas as Norma. During her early career, she was training to be a Wagnerian dramatic soprano, following the steps of Kirsten Flagstad, whom she considers the best singer ever. In 1953, she sang her first leading role at the Royal Opera House: Amelia in Un Ballo in Maschera. Later, she sang Aida. Also in 1953, she sang in the world premiere of Benjamin Britten's Gloriana. In 1954, she married the conductor and pianist, Richard Bonynge. He convinced her to concentrate on the bel canto repertoire, since she had great ease at the high notes and coloratura. From 1954 to 1958, she sang successfully a large repertoire, from coloratura roles to dramatic ones: Eva in Die Meistersinger, Agathe in Der Freischütz, Desdemona in Otello, Gilda in Rigoletto, Donna Anna in Don Giovanni and many others. In 1957, she made her debut as Alcina, starting her work on rediscovering the forgotten operas from the Baroque and Bel Canto eras. In 1958, she sang Madame Lidoine in the English premiere of Francis Poulenc's Dialogues of the Carmelites. In 1959, she was invited to sing Lucia di Lammermoor at the Royal Opera House in a production conducted by Tullio Serafin and staged by Franco Zeffirelli. It was a breakthrough for Sutherland's career, and as soon as she finished the famous Mad Scene, she was a star. In 1960, she recorded the album The Art of the Prima Donna, which is still one of the most recommended opera albums ever recorded. This album, which is a collection of coloratura arias, shows the young Sutherland at her very best at the beginning of her international career. In 1960, Sutherland was already known as a vocal miracle and a great diva. She sang Lucia to great acclaim in Paris and, in 1961, at La Scala and the Metropolitan Opera. In 1960, she sang a superb Alcina at La Fenice, Venice, where she was nicknamed La Stupenda (The Stupendous One). Sutherland would soon be called La Stupenda all around the world. She also sang Alcina at the Dallas Opera, with which she made her US debut the same year. Joan Sutherland added the greatest heroines of bel canto in her repertoire: Violetta (La Traviata), Amina (La Sonnambula) and Elvira (I Puritani) in 1960; Beatrice di Tenda in 1961; Marguerite de Valois (Les Huguenots) and Semiramide in 1962; Norma and Cleopatra (Giulio Cesare) in 1963. She later added Marie (La Fille du Régiment), which is one of her most admired roles, because of her perfect coloratura and lively, funny interpretation. During the 70s, her voice became more expressive and she improved her diction. Then, she added dramatic roles like Donizetti's Maria Stuarda and Lucrezia Borgia and Massenet's extremely difficult Esclarmonde. She even recorded a successful Turandot in 1972, though she never performed the role on stage. Sutherland's early recordings show her to be possessed of a crystal-clear voice and excellent diction. However, by the early 1960's, her voice lost some of this clarity in the middle register, and she often came under fire for having extremely poor diction. Some have attributed this to sinus surgery, however, her major sinus surgery was done in 1959, immediately after her breakthrough Lucia at Covent Garden. In fact, her first commercial recording of the first and final scene of Lucia reveals her voice and diction to be just as clear as prior to the sinus procedure. She clearly took the criticism to heart, since within a few years, her diction improved markedly and she continued to amaze and thrill audiences throughout the world. In the late 70s, Sutherland's voice started to decline. However, thanks to her vocal flexibility and flawless technique, she continued singing the most difficult roles amazingly well. During the 80s, she added Anna Bolena, Amelia in I masnadieri and Adriana Lecouvreur to her repertoire. Her last performance was as Marguerite de Valois (Les Huguenots) in 1990, at the age of 64. However, her last public appearance took place in a gala performance of Die Fledermaus on New Year's Eve, 1990, at Covent Garden, with her friends, Luciano Pavarotti and Marilyn Horne. During her career and after, Sutherland received many prizes. In 1961, Sutherland was made a Commander of the British Empire. She was further elevated from Commander to Dame Commander on December 30, 1978. On June 9, 1975, Dame Joan was made a Companion of the Order of Australia. On November 29, 1991, the Queen bestowed on Dame Joan the Order of Merit, one of Britain and Australia's highest honours and within the Queen's personal gift.

Reasons for assigning the award
Joan Sutherland has been one of the greatest protagonists in the field of opera singing in the 20th century. She is a living myth and an unforgettable soprano. Her voice has a marvellous timbre, an outstanding volume, and an extended range, with clear and intense supra-acute notes, and her dexterity allows her to perfectly move within her vocal range with incredible agility. She is an elegant and intelligent actress in both tragic and comic roles. She has contributed to the reform of opera singing, by giving great importance to the technique and praxis, further developing the revolution that Maria Callas had started. Her performances – most of which are available on disc – are considered by other artists as examples to imitate. Experts also call her "Wonderful Koloraturwunder" and "Incomparable".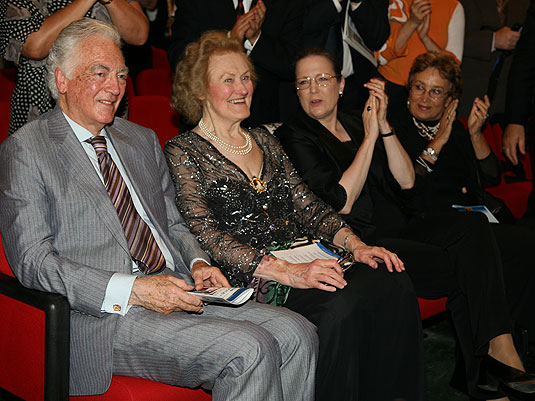 •