Fabio Capello
Fabio Capello made his debut as a soccer player in 1964 in the Spal football club. At that time he was an 18-year-old strong midfielder, not particularly gifted as for ball control, but with an outstanding vision, which allowed him to achieve all those victories that everybody now envy him for. In 1967 he was purchased by Roma football club, expressly requested by the club's president Franco Evangelisti. With Roma he was first trained by Oronzo Pugliese, then by Helenio Herrera. In very few years, he became one of the club's main players, and even if Roma in those years was ranking as a middle-table team, his goals earned the club the Italian Cup in 1969. Although Roma was a promising team and supporters where hoping for successful seasons to come, new president Alvaro Marchini had to dodge among an uncertain budget, and decided to sell the most prestigious payers: Luciano Spinosi, Fausto Landini and Fabio Capello. Supporters strongly criticized this choice, but the transfer had already been finalized. A new period of success started for Capello. He won three championships, and was called to join Italy's national team. With the national team he earned himself a place in the history of soccer, when on November 14, 1973, in Wembley, he scored the only goal in the first match ever won by Italy over England. In 1976 he left Juventus football club to join Milan, where he played for the two last years of his career on the field. From 1985 to 1991 he directed Milan's young squad, while also being involved with hockey and marketing strategies. Then his big occasion arrived in 1991, when Arrigo Sacchi stopped coaching Milan, and Capello was appointed to replace him, training outstanding champions such as Franco Baresi, Paolo Maldini and three famous Dutch payers (Ruud Gullit, Marco Van Basten, and Frank Rijkaard). In five championships he won four pennants, three League Supercups, one Champions Cup, and one European Supercup. Capello is a tough but flexible coach. He adapts match strategies to his players. He may choose an offensive approach for an entire year, and opt for a defensive play the following championship. After winning the 1996 championship with a team that boosted two outstanding champions like Roberto Baggio and Dejan Savicevic, Capello left Milan and went to Spain to coach Real Madrid, where he won the championship during his first year there. Real Madrid's supporters acclaimed him as a hero, and somebody even proposed to build a monument to his honour. In the meantime, his former team, Milan, was sailing in deep waters. Capello was asked to return to Italy. Despite his toughness, his heart drove him to accept. Unfortunately, the old-time success with Milan did not repeat, and Don Fabio (the nickname he went by in Madrid), disappointed, decided to spend one year away from action. He was involved with soccer only as a TV commentator, until 1999 when Franco Sensi asked him to become Roma's coach. On June 17, 2001, Roma won its third pennant, and many said that Capello was the real "added valued" to the club. He was the coach having won the most during that decade. With Milan, Real Madrid and Roma he won six championships out of eight. On August 19, 2001 he conquered the Supercup beating Fiorentina 3 to 0. Not much time passed, and Capello's celebrity was confirmed when he won the championship the first year he was coaching Juventus. The club obtained its 28th pennant, and most of the merit had to be acknowledged to Capello. At the end of the 2005-2006 season, Capello left Juventus in July and returned to Spain to coach Real Madrid again. He led the team to climb up the table and win its 30th pennant on the last match of the season, which entitled Capello's to rightfully enter the elite of the best coaches ever.

Reasons for Awarding the Prize
Fabio Capello is one of the very few sportsmen able to transmitthe so called winning mentality to any team, an approach that hasbeen exported abroad and has proved successful. He is the only coach who has led three different clubs to win the Italian championship.Endowed with feelings of humanity and the capacity to understand, heis a gifted with the ability to discover and cultivate promisingchampions: suffice it to mention Francesco Totti and Antonio Cassano. He is considered as the ambassador of the unanimously recognizeItalian sporting style in the globalised world of football.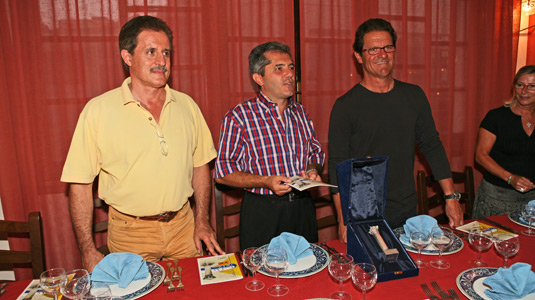 Francesco Bambina - Presidente dell'Associazione "Amici della Musica" di Alcamo e Fabio Capello - Allenatore