Raffaele Lombardo
Raffaele Lombardo obtained a university degree in medicine, and then specialized in forensic psychiatrics. He has been a famous politician for a long time, and has been the Governor of Sicily since 2008. He is the founder and leader of Movimento per le Autonomie political party, was the President of Catania's Provincial Administration from 2003 to 2008, and ran with the Christian Democratic party in the city of Catania to be elected in Sicily's regional parliament on June 22, 1986 and then again in 1991. In 2000 he was appointed deputy Mayor of Catania, but had to resign in 2003 when he became the President of the Province. In 1999 he was elected to the EU parliament, where he was re-confirmed in 2004. A survey carried out by Il Sole 24 ore newspaper in November 2006 revealed that he was the most appreciated President of a Provincial Administration in Italy. Such result was later confirmed in December 2007 by a research study (performed by Ekma Monitor with a national sample of 180,000 interviewees), which ranked Mr. Lombardo first in the list of the most highly appreciated Presidents of Province in Italy, with a 63.1% approval.
He was also the President of the Association of Sicilian Provinces. At the European parliament, he was a member of the Committee on Civil Liberties Justice and Home Affairs, a member of the Committee on Environment, Public Health and Food Safety, a member of the Delegation for the Relations with the Maghreb and the Arab Maghreb Union (including Libya), and a member of the Delegation for the Relations with Canada. On March 3, 2009 a survey poll made by Ekma assigned 68.3% of citizens' approvals to Lombardo, first among Italy's Regional Governors, 5 points higher than the previous survey carried out in July 2008.
The first year he was in office as a Regional Governor, he had to cope with fights and divisions in the centre-right majority coalition, to the extent that on May, 2009 Lombardo asked all his regional councillors to resign, thus cancelling all political assignments. In June 2009 he formed a new regional government, and one month later, claiming that the national government had abandoned southern Italy, complaining about the poor infrastructural network of Sicily, and criticizing the national government's failure to transfer the Funds for Underdeveloped Areas, Lombardo entered into a controversy with Berlusconi's government, and Lombardo's political party refrained from voting when the national government called for a vote of confidence. "Italy is split into two parts, a European one and an African one. We demand that this government take care of both parts and make them become a single entity. This is the point", said he on that occasion. During the last week of December 2009, Lombardo established yet another government that for the first time ever in Sicily was formed by experts and not by politicians.
Reasons for awarding the prize
This prize has been awarded to Sicily's Governor, Mr. Raffaele Lombardo, for having revived, developed, increased and consolidated the value of Sicily's autonomy, also in international milieus, paying particular attention to the efficiency and effectiveness that autonomy may allow for.
Furthermore, Raffaele Lombardo always tried to have a positive and constructive interaction with Italy's national government, in order to affirm production development processes, investments, and better employment opportunities for the youth, and struggled to retrieve financial resources through structural interventions based on the reduction of the costs implied by politics and public administration.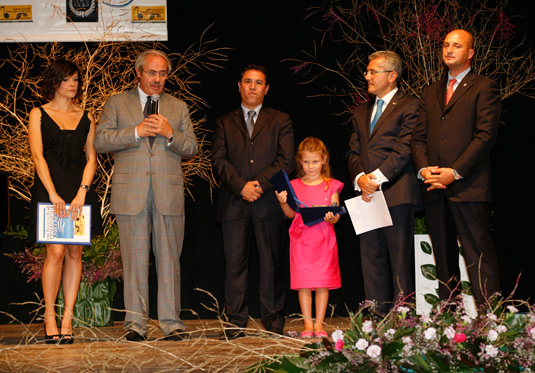 Da sinistra: Alessandra Bellini - Presentatrice, Raffaele Lombardo - Presidente della Regione Siciliana, Giacomo Scala Sindaco della Città di Alcamo, la piccola Irene Castiglione, Francesco Bambina - Presidente dell'Associazione " Amici della Musica" di Alcamo e Mimmo Turano Presidente della Provincia Regionale di Trapani