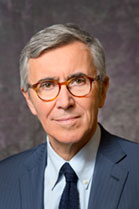 2014
Bruno Gridelli
Bruno Gridelli received his degree in medicine and surgery in 1977 from the University of Milan, where he went on to do his residency in general and pediatric surgery. His first faculty appointment was at the same university, in 1980, as an assistant professor at the Institute of Emergency Surgery. He then undertook his fellowship in transplantation at the University of Pittsburgh, under the tutelage of Thomas E. Starzl. After returning to Italy, he collaborated on the foundation of one of the country's first liver transplant programs for both pediatric and adult patients. From 1997 to 2003, he was the director of the newly founded Liver Transplant Center at Ospedali Riuniti, in Bergamo. Dr. Gridelli was largely responsible for bringing pediatric liver transplantation and split liver transplantation to Italy, and while in Bergamo also started a lung transplantation program. In July 2003 he became a professor of surgery at the University of Pittsburgh, and then served as medical & scientific director of ISMETT (Istituto Mediterraneo per i Trapianti e Terapie ad Alta Specializzazione), in Palermo, until January 2009, when he was appointed director of the institute. In addition to managing and overseeing ISMETT's clinical activities, Dr. Gridelli is the institute's legal representative, and has extensive administrative responsibilities, effectively covering the role of a chief executive officer. ISMETT has also significantly increased its liver transplant activity under Dr. Gridelli's direction, and undertaken a variety of new clinical programs, such as heart, lung, pancreas and islet transplantation. The lung transplant program in Palermo is the only one of its kind south of Rome, and already one of the most active in Italy. With the collaboration of colleagues from Pittsburgh, ISMETT has performed more living donor liver transplants than any center in Italy, with excellent results. ISMETT has performed over 1,500 transplants and has one of the most active ventricular assist device (VAD) programs in Italy. ISMETT has also widened its strategic commitment for the treatment of diabetes, by starting islet transplantation according to the method invented by Dr. Ricordi, and has joined the Diabetes Research Institute (DRI) Federation by creating DRI – ISMETT under his direction. Dr. Gridelli also played a leading role in the creation of the Ri.MED Foundation, of which he was appointed Vice-President in 2006. The Ri.MED Foundation is an international partnership involving the Italian Government, the Region of Sicily, the Italian National Research Center (CNR), the University of Pittsburgh, and the University of Pittsburgh Medical Center (UPMC), with the mission of promoting and supporting biomedical and biotechnology research and development. In December 2007, Dr. Gridelli was appointed medical & scientific director of UPMC's International Division. In this position he directs clinical and scientific activity for all international locations, this contributing to the development of a network of collaborations and partnerships in Ireland, United Kingdom, Italy, Qatar, Singapore, China and Kazakhstan. In his role as medical and scientific director, Dr. Gridelli has contributed to transferring UPMC good clinical and managerial practices, which have resulted in the start of a telepathology program involving a network of 1,000 hospitals in China, and the opening of a new advanced radiotherapy center in Rome. As senior physician in the UPMC International Physician organization, Dr. Gridelli chairs the International Medical and Scientific Advisory Board, and is responsible for the quality of medical care and scientific research UPMC's international facilities. On September 1, 2014 he was appointed Executive Vice President of UPMC International Services. In this role he serves as the leader of UPMC International Business Development activities and operations.

Reasons for awarding the prize
"As the Scientific and Medical Director first, and then as the Director General of ISMETT (Mediterranean Institute for Organ Transplantation and Advanced Therapies), Dr. Bruno Gridelli has raised the hospital to the world's top medical centres – also thanks to the skills and dedication of his staff – as for number of organ transplants procedures, for the therapies against end-stage organ failure, and for regenerative medicine. He is an innovator in the field of organization, logistics and research, and has been able to develop, achieve and maintain excellence in healthcare. He is a true example of competence, dedication and courage, having being committed in several awareness campaigns for boosting organ donation and organ transplantation. He is considered a model for new generations of physicians and researchers involved in several different branches of science".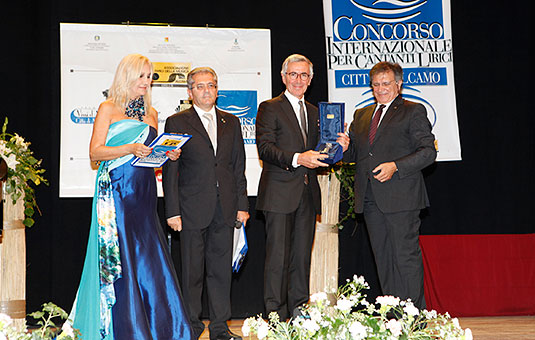 Da sinistra Paola Zanoni - presentatrice, Francesco Bambina - presidente dell'associazione Amici della Musica" di Alcamo, Prof. Bruno Gridelli - Direttore Generale dell'ISMETT (Istituto Mediterraneo per i trapianti e terapie ad Alta Specializzazione) e il Dott. Sebastiano Bonventre sindaco del Comune di Alcamo