Raffaele Cantone
Raffaele Cantone, a magistrate assigned by the Supreme Judicial Council
to extra-judiciary matters, has been the Chairman of the Italian Anti- Corruption Authority since April 28, 2014. He was born in Naples on November 24, 1963, is married and a father of two. He graduated in Law from the Federico II University of Naples on October 26, 1986 obtaining full marks and honours, with a dissertation on criminal law titled 'The impossible crime'. On May 26, 1992, he specialized in Criminal Law Procedure from the same University. After the apprenticeship period (legal auditor) started on August 1, 1991, he was given a position at the Magistrates' Court of Naples on October 1, 1992, where he dealt with common criminalities and professional negligence matters. In September 1996, he was transferred to the Public Prosecutor's Office of Naples and assigned to the Financial Crimes Section, where he handled tax violations, corporate and banking offences, and bankruptcy-related matters. In September 1999, he was assigned to the Anti-Mafia District Directorate of the Public Prosecutor's Office, where he investigated on the organized crime (Camorra) syndicates in the Caserta area, including gangs' infiltrations in northern Italy (particularly in the regions of Emilia and Veneto), also probing into money laundering and the use of racket capitals abroad (especially in England, Scotland, Germany, Hungary and Poland), and setting up trials on mobsters' infiltration in local public institutions. In October 2007, he was transferred to the Supreme Court of Cassation, Massimario, initially handling civil suits, to be later assigned to the criminal section in September 2011, of which he became the Coordinator in 2013. He was a member of the scientific committee of a board chaired by Prof. Carlo Grosso, created on October 1, 1998 by the Ministry of Justice for reforming the Italian criminal code. He was also a member of several other committees, including the one that had to reform rules on felonies such as complicity and collusion. For four legislatures, he was a consultant for the Anti-Mafia Parliamentary Committee, participating in the drafting of a report on Camorra syndicates in the region of Campania. On April 28, 2014, by Presidential Decree – following a resolution by the Council of Ministers issued after a positive and unanimous decision released by the Parliamentary Committees for Constitutional Affairs of the Chamber of Deputies and the Senate – Raffaele Cantone was appointed Chairman of the National Anticorruption Authority for a six-year term. He holds a teaching post at the Suor Orsola Benincasa University of Napoli for a course titled 'Anti-Mafia Legislation: Substantial and Procedural Profiles", and is a professor in the "Administrative Responsibility and Anticorruption Legislation" class at the Cassino e Lazio Meridionale University in the city of Cassino. He authored many articles, legal judgements, encyclopaedic entries, monographs and other publications. His most recent writings include, 'Il male italiano. Liberarsi dalla corruzione per cambiare il paese' (on how to fight corruption in Italy, written with G. Di Feo, published > in 2014), and 'La corruzione spuzza' (written with F. Caringella, published in 2017).
Reasons for assigning the Award
During an interview on a Sicilian newscast, Chairman of Italian Anticorruption Authority Raffaele Cantone – who in the past was a public prosecutor having handled camorra crimes, a famous writer, and always involved in institutional roles against corruption – sentenced, 'Italy is a country which is not able to deal with its own history and reality. When a resounding event regarding mafia or corruption occurs, indignation is often followed by indifference. We need a stricter social control. Rather than filming with TV cameras of "screamed-out" talk shows, we should use "well thought-over" cameras and keep them on'. This prize is awarded for the contribution that Raffaele Cantone has been giving to the knowledge of the facts that he has battled against. How could anybody not admire his belief that fighting criminals – either mobsters or white collar workers - should not disregard the awareness that corruption harms everybody? No battle against corruption can be won with repression alone, as prevention and education are even more important, and should particularly involve new generations. As a jurist, Raffaele Cantone has always insisted that the principles of the Law should never be given up, notwithstanding the waves of emotion or the irrational forces that often arise, such as populisms or emergency-derived pressures.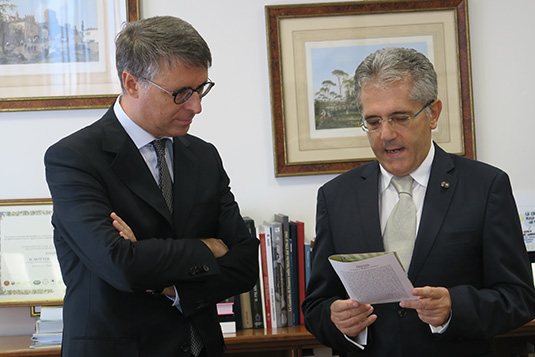 Premio Internazionale per la Cultura ad Raffaele Cantone– Consegna premio