Heinz Beck
Heinz Beck Nowadays, Heinz Beck is known as one of the most notable "Masters" of gastronomy in the world.
His unique interpretation of the "Modern" kitchen goes beyond his undisputed culinary talent, but includes the utmost attention toward the selection of ingredients and their transformation into highly innovative flavors.
Beyond an excellent career as a highly decorated Chef, Heinz Beck has been heralded as a leader in Italian and Mediterranean culinary tradition. Among numerous awards, Chef Beck has been recognized by "Michelin", "Bibenda", "Gambero Rosso" and "L'Espresso" (just to name a few).
Heinz Beck is truly a polyhedric genius of our time, in which different attitudes evolve into different arts, the true size of modern gastronomy. His profound understanding of the culinary culture is revealed in several of his texts, which address more than culinary practices. Multistarred and pluri-awarded, since 1998 is the winner of the "Five Star Diamond Award", and since 2013 also of the "Six Star Diamond Award", both conferred by the American Academy of Hospitality Sciences, first in Italy to obtain such acknowledegement. In the year 2000 Heinz Beck is awarded with the "Gold Medal at the Foyer of Artists", an international prize of the University of Rome La Sapienza, awarded for the first and only time in 40 years to a Chef.
In 2010 he is recipient of the recognition of the "Knight of the Order of Merit" from the Federal Republic of Germany awarded by the Minister Friedrich Däuble. In 2016 he is nominated Ambassador of Extraordinary Italian Taste by MIPAAF, the Italian Ministry of Agricultural, Food and Forestry Policies, for the promotion of Italian Cuisine worldwide. In the same year he was also awarded with the prize "Italian Excellence", symbol of the first edition 2016 of Italian Excellences Festival.
In 2017 he received an award by Fiasconaro, a famous brand of Sicilian pastries, called "Gusto Divino 2017" during the Divino Festival at Castelbuono, in the south of Italy. Careful observer of food effects on the body, Heinz Beck has been carrying on for almost 20 years Important cooperations with national and international scientists as well as Italian Universities concerning the good balance between food and health.
Heinz Beck and his wife, Teresa Maltese, manage all the restaurants listed below as well as commercial businesses via the Beck & Maltese Consulting company, which offers all-around consulting in the food industry as well as partnerships, management services, research and innovation.

Motivazioni del Premio
Italy is proud of hosting Heinz Beck, one among the world's greatest experts of gastronomy. With his studies on wellness and health, his commitment in spreading his knowledge, he has developed a special bent toward instilling interest and passion for the art of cooking into young people, trusting on their fundamental role for the dissemination of the culture of great cuisine today and in the future.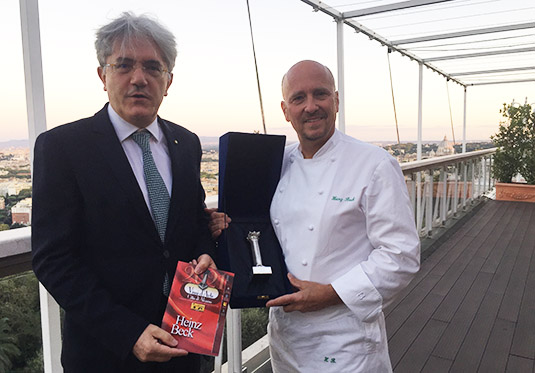 Conferimento Premio Internazionale per la Cultura "Vissi d'Arte Città di Alcamo"